Adrian Suherman
Chief Executive Officer
50 years old
Indonesian citizen
He started his professional career in 1995 at global software companies including Sun Microsystems, Inc. and Oracle Group in USA. He returned to Indonesia and continued his professional career as Manager at A.T. Kearney (2007-2010) and as Managing Director at Living Social (2010-2012).

He has held several important positions as Vice President at PT Telkomsel (2012-2014); CEO at aCommerce (2014-2015) and CEO of PT Visionet International (OVO, 2016-2019). Currently he also served as President Commissioner of PT Ciptadana Capital (since 2016); President Commissioner at PT Multipolar Technology (since 2019); President Director of PT Multipolar Tbk (since2019); Commissioner of PT Matahari Department Store Tbk (since 2020); and President Director of the Company (since 2019).

He was graduated as Bachelor of Science in Computer Engineering from the University of Arizona, USA in 1995; Master of Science in Electrical Engineering from Stanford University, USA in 1997; and Master in Business Administration in Corporate Strategy and Operations Management from the European Institute for Business Administration (INSEAD) in 2006.
Jerry Goei
Deputy Chief Executive Officer
53 years old
Indonesian citizen
Joined the company in 2023 with operational experience in various industries. He currently serves as Chief Operating Officer of PT Multipolar Tbk (2020-present) and Commissioner of several subsidiaries of PT Multipolar Tbk. Previously he held various top executive positions in various companies, including Managing Director & Head of Operation of Northstar Group, one of the leading private equity company in Indonesia, Country Director of AkzoNobel Group in Indonesia also President Director and CEO of PT ICI Paints Indonesia (Dulux), one of AkzoNobel's largest subsidiaries in Indonesia. He obtained his Bachelor of Science degree (BSc) in Computer Science from the University of Texas, USA in 1991 and MBA degree from Baylor University in Texas, USA in 1992. He also attended Executive Development programs at IMD (Switzerland) in 2007 and INSEAD (France) in 2011.
Mirtha Sukanto
Finance, IT & Business Development Director
43 years old
Indonesian citizen
Joined the Company in 2023 as Finance Director. She has 20 years experiences in FMCG/Food Retail, automotive and financial technology. She started her career as Senior Auditor in Ernst & Young (2000-2005), then PT Hero Supermarket Tbk as Internal Audit Manager (2005-2009), Head of Internal Audit (2012-2014) and Business Planning and Controlling Director (2014-2017). She also held the position of Internal Audit Manager at PT Mulia Intan Lestari (2009-2012) and had a career in PT Volvo Indonesia as CFO (2017-2021). For the last 2 years, she has been active as an advisor in several Indonesian start-up companies. She graduated as a Bachelor of Economics majoring in Accounting from Tanjungpura University, Indonesia in 2000 then completed the Global Executive MBA program at INSEAD in 2021.
Roy Atmadja
Store Operation, E-commerce & Supply Chain Director
58 years old
Indonesian citizen
Joined the company in 2023 with his extensive experience in the F&B and Retail industry in Indonesia. He started his career by holding important positions in the Information Technology division of various companies such as PT Alexindo (1986-1987), PT Bank Danamon (1988-1991), and PT Bina Nusa Rama/McDonalds Indonesia (1992-2009) with the last position as Director of Supply Chain, Quality Assurance and IT. He had a career at PT Sierad Produce Tbk (2009-2011) as Director of Food Division and PT Pioneerindo Gourmet International Tbk (2012-2014) as Vice President Director. He was also active as senior advisor in various F&B and QSR companies before joining the Company. He graduated from AMIK Bina Nusantara majoring in Information Management in 1987.
Arnaud Dupont
Merchandising Director
57 years old
French Citizen
Joined the Company in 2023 with more than 25 years of senior leadership experience with global retailers and management consulting firms. Prior to joining the Company, he is an independent consultant for strategy and management consulting for retailers with Southeast Asian operation based in Bangkok, Thailand (2019-2023). He started his career as Strategy and Management Consultant in A.T. Kearney Paris, France (1992-2000), then he joined Carrefour (2000-2012) which opened his career path in Asia retail industry and held top executive position in Carrefour Paris, Shanghai, Chengdu and Istanbul. He joined Casino Group and held positions as Vice President Commercial in BIG C Bangkok (2012-2014) and as cofounder and chairman for CDISCOUNT Thailand (2013-2014); then Central Food Group as Executive Vice President Value Formats, Bangkok (2016-2018); and Boots Retail (Thailand) Limited as Head of New Formats (2018-2019). He graduated from Centralesupélec in 1989 with Engineering and Management Degree and obtained his Master in Management on 1990 from ESSEC.
Iriana Ekasari
Marketing Director
58 years old
Indonesian citizen
Joining the Company in 2023, she has more than 20 years of experience in FMCG, community marketing and other industries. She had a career in agricultural industry such as PT Sadang Mas (1988-1991) with the last position as Supervisor of Central Control Division; in FMCG company PT Unilever Indonesia (1992-2004) with the last position as General Manager New Business; as Marketing Director for PT Bintang Toedjoe (2004-2006), PT HEINZABC Indonesia (2006-2008), PT ICI Paints Indonesia (2009-2011), and Akzonobel South East Asia Pacific (2012-2013). Prior to joining the Company, she was a Management Consultant in Strategic Management for various companies (2013-2016), then as President Director for PT Kharisma Pemasaran Bersama (2016-2017) and PT Sila Agri Inovasi as Founder & CEO of a startup company that focuses on innovation in tea and spices native to Indonesia (2018-present). She graduated from Bogor Agricultural University, Faculty of Agriculture in 1987.
Lydiawati Kurniawan
Human Capital & Corporate Communication Director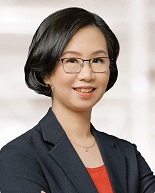 53 years old
Indonesian citizen
Joined the Company in 1994-2011 and from 2019 until now. She started her professional career in the Company in 1994 as a Senior Recruitment Officer, then moved up to several important positions such as Store Operation Specialist, Training & Development Manager, Organization Development & Staffing General Manager. During the 2011-2015 period, she continued her career at SOHO Group with several positions as Recruitment & Selection Division Head - SOHO Global Health, Organization Development & Talent Management Division Head - SOHO Global Health and Human Capital Development & Public Affairs Director - PT Ethica Fresenius Kabi (subsidiary SOHO Group). In the 2015-2018 period, she served as Human Resources & Organization Development Independent Consultant. Since 2019, she has returned to the Company as Human Capital Development Vice President. She has a Bachelor of Psychology from the University of Indonesia (1994).