Wim Nestor Maris
Chief Executive Officer
53 years old
Belgium citizen
Joined the Company in 2022 as President. He has more than 18 years experiences of extensive commercial, and supply chain in the food retailing industry from Ahold Delhaize Group where he worked in different countries in executive roles including 8 years in Indonesia as Vice President of Lion Superindo (2009-2017) where he oversaw the company's Procurement, Merchandising, Marketing, Digital, Sustainability, and FSQA (Food Safety & Quality Assurance) functions. He holds a Bachelor in Hotel Management from PIVA School, Antwerp, Belgium. He continued his Master Program for Strategic Purchasing and Supply Chain Management which is a joint executive program of the Broad Graduate School of Management - Michigan State University, Department for Business to Business and Supply Management - University of Stuttgart, CRiSPS School of Management - University of Bath and has attend the Executive Education Course from Harvard Business School.
Mirtha Sukanto
Finance Director
43 years old
Indonesian citizen
Joined the Company in 2023 as Finance Director. She has 20 years experiences in FMCG/Food Retail, automotive and financial technology. She started her career as Senior Auditor in Ernst & Young (2000-2005), then PT Hero Supermarket Tbk as Internal Audit Manager (2005-2009), Head of Internal Audit (2012-2014) and Business Planning and Controlling Director (2014-2017). She also held the position of Internal Audit Manager at PT Mulia Intan Lestari (2009-2012) and had a career in PT Volvo Indonesia as CFO (2017-2021). For the last 2 years, she has been active as an advisor in several Indonesian start-up companies. She graduated as a Bachelor of Economics majoring in Accounting from Tanjungpura University, Indonesia in 2000 then completed the Global Executive MBA program at INSEAD in 2021.
Kyu Tae Park
Merchandising Director
52 years old
South Korean citizen
Joined the Company in March 2015 as Director of Boston Health & Beauty Operations. He has 27 years of experience in the retail industry and a prominent figure in establishing Watsons chain in Asia. Kyutae started his professional career in 1996 as an Assistant Manager and developed his retail skill while contributing to set the first store of Carrefour in Korea. He has assumed several key positions, such as Director of Carrefour and Watsons Korea (2007-2012) and Country Head Watsons Indonesia (2012-2015).
Ita Karo-karo Fernandez
Marketing & Promotion Director
49 years old
Indonesian citizen
Joined the company in 2022 with more than 23 years' experiences in FMCG Business Management and Marketing Strategy. She had a career as Head of Marketing in several wellknown FMCG companies between 2000-2020 such as PT Arnott's Indonesia, PT Johnson & Johnson Indonesia dan Philippines, PT Mondelez International, PepsiCo International and Unilever Indonesia. She graduated from Silliman University, Philippines with a Bachelor's in Business Administration in 1997 and earned a Master's degree in Business Administration from University of San Carlos, Philippines in 1999.
Lydiawati Kurniawan
Human Capital Director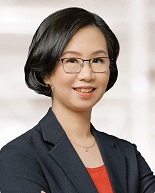 53 years old
Indonesian citizen
Joined the Company in 1994-2011 and from 2019 until now. She started her professional career in the Company in 1994 as a Senior Recruitment Officer, then moved up to several important positions such as Store Operation Specialist, Training & Development Manager, Organization Development & Staffing General Manager. During the 2011-2015 period, she continued her career at SOHO Group with several positions as Recruitment & Selection Division Head - SOHO Global Health, Organization Development & Talent Management Division Head - SOHO Global Health and Human Capital Development & Public Affairs Director - PT Ethica Fresenius Kabi (subsidiary SOHO Group). In the 2015-2018 period, she served as Human Resources & Organization Development Independent Consultant. Since 2019, she has returned to the Company as Human Capital Development Vice President. She has a Bachelor of Psychology from the University of Indonesia (1994).
Leon Pompiliu Bivolaru
Business Development & Supply Chain Director
47 years old
Romanian citizen
Joined the Company in 2015 as Vice President Wholesale. He has extensive 20 years of experience in retail and wholesale industries with strengths and focus in store operations, logistics, key account manager and field operations.He started his professional career as Sales Representative for Quadrant Amroq Beverages, Timisoara (1998-2000), Interbrands Marketing and Distributions, Bucharest (2000-2001), Metro Cash & Carry Romania SRL (2001-2012) with several positions as Floor Manager, Store Manager and Head of Field Operations. His career in Indonesia begun when he joined PT Paserda Indonesia, Metro Cash & Carry International GmbH as Head of Field Operation in 2012 and PT Hero Supermarket Tbk as General Manager of Operations (2013-2014). He graduated from West University, Timisoara in 1998.